Survival Guide for All Campuseros!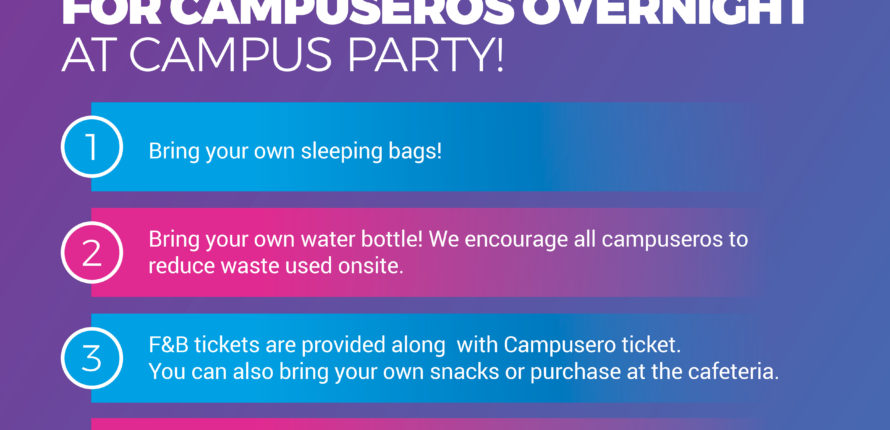 Attention to all Campuseros.
You have chosen to join us on this journey to create the future. Here's what you need to know before you attend the festival!
Where? Singapore EXPO, Hall 7.
When? 6th – 8th July 2018
Operating hours? Festival runs for 24 hours non-stop.
Registration Check-in and Check-out
Registration for Visitors and Campuseros will start at 9am on 6th July.
Campuseroswith Camping will be allowed to access the Camping Village to put their belongings and settle down before the program officially starts on 6th July.
The registration counter operates 24 hours for 3 days. You may also purchase festival passes

ONLINE

.
Once you have registered for the event, you will receive a badge that you will need to

CARRY IT AT ALL TIMES

at the event venue and show it during security checks.
All Campuseros at the Camping Village will have to check-out on 8th July by

9pm.
Not sure where to start?
Make a plan by creating your own agenda based on all the exciting activities, performances, talks and workshops. Click on the following link to check out our agenda! https://singapore.campus-party.org/program/agenda/
Your Survival Kit
Your own Laptop
Chargers for Laptop and Mobile Devices
International Adapter (for overseas Campuseros)
Notebook and Pen
Water Bottle (Water dispenses will be available onsite and we should all do our part in

REDUCING WASTE

)
Sweater/Jacket
USB Flash Drive (optional)
Mementos from your country to share (optional)
Most importantly, come with an open mind to learn, share, exchange and have tons of fun!
For Campuseros Overnight at Campus Party Singapore!
The Camping Area is a space for Campuseros to rest and recharge. The area is equipped with tents, toilets and shower facilities. We provide the tent (2.45mx1.45m) and at the end of the event, you can disassemble it and take it home.
You will only have to bring:
– Mattress/Sleeping bag
– Pillow
– Pyjamas/Sleeping clothes
– Small padlock to lock the tent (for security). Any lock of your choice, the zipper hole is approx. 0.6cm in diameter
Things to note:
– Avoid making loud noises as the Camping Area is a place for Campuseros to rest
– Keep the area clean, avoid littering
– Smoking will not be allowed in the hall
Prohibited items:
– Flammable materials or dangerous objects (e.g. knives, syringes)
Last but not least, experience what it would be like to formulate the next big idea through fun, connections and collaborations. While the entire world sleeps, Campuseros choose to dream. Join us at the arena dreaming with Tinkerers, Learners and Makers from all over the world. Get the ultimate Campus Party experience when you pitch a tent with hundreds of the other brilliant minds! #CPSG1
While you are here, follow us at Campus Party Singapore's social platforms at
---