This is the Equator – Jeff Cheong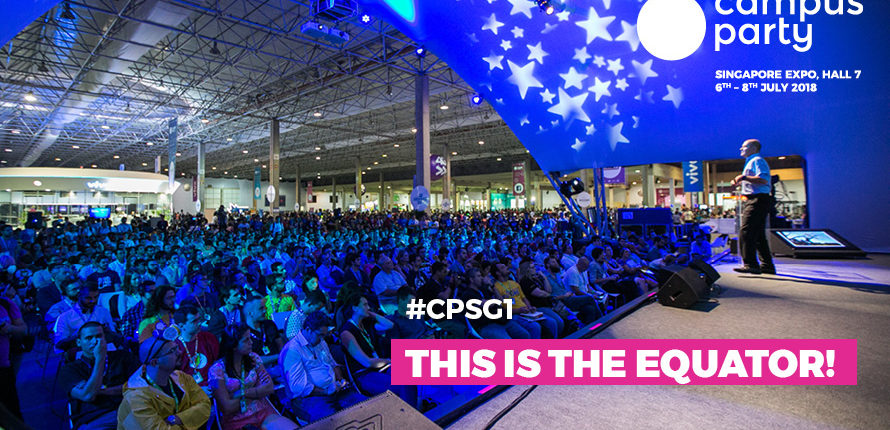 Jeff Cheong has earned himself a reputation as a powerhouse adman and an astute businessman. As the president of Tribal Worldwide Asia, he works to deliver exceptional solutions for big brands such as Samsung, Shiseido and Volkswagen.
To get to the top, he faced strong resistance along the way. He was almost kicked out of his house as his parents deemed his poly course a dreadful choice. But he never let that stop him from pursuing his passion for design. Neither did his humble roots – he lived in a 3-room flat with 10 other family members – stop him from dreaming big.
Now, as a successful professional, work continues to transcend the office even as he balances family commitments and community volunteering.
Given his past, he recognises how important the combination of perseverance and passion is. Now, he's on the lookout for students with the tenacity to make their mark on the tech-innovation front. He established Equator, the first-ever DDB satellite office in Temasek Polytechnic, as a way to give back to his alma mater and inspire youths to pursue careers in design and technology. The office fosters symbiotic relationships between brands and students on real projects, right on their own campus. Participants get to mingle with an interdisciplinary group of students while rapidly prototyping solutions for commercial or community needs. They also get access to valuable mentorship from Equator's 50 creative technologists. Brands, on the other hand, get the chance to tap on these young minds for fresh and relevant ideas.
Initial results from recent projects have been excellent, with two innovative app ideas already executed. From helping people respond to public emergencies to incorporating AI into beauty products, Equator students are always thinking of the next revolutionary idea. One project, countonme.sg, has even received public praise from Prime Minister Lee Hsien Loong, who complimented the interactive site for its simple and fun mathematical take on everyday Singaporean situations. Equator also nailed a prestigious Silver MARKies award for launching the first ever A.I. engine for Shiseido – a chatbot that sends personalised beauty tips to its user.
Through Equator, students also have access to Tribal Worldwide's significant marketing know-how. The agency has executed award-winning campaigns for clients regionally and locally. The stellar line-up includes big names such as DBS, Heineken, Volkswagen, Shiseido, Johnson & Johnson and the Ministry of Communications and Information.
Tribal works across all industries to craft exquisite, impactful campaigns. One notable campaign has Kung-Fu masters dropping kick-ass moves on sugar villains as part of a larger national conversation about how to fight diabetes. The agency has also worked with Samsung to build a world-class loyalty application, and with the Japanese National Tourism Organisation to create a personalised content hub that promotes lesser-known Japanese cities. After picking up valuable advice from the creative technologists at Tribal, Equator participants can also be part of teams that design such phenomenal marketing as well.
Given this wide range of experiences, Jeff has plenty of priceless pointers to share at Campus Party Singapore (CPSG). Whether you're an aspiring entrepreneur or already running your own business, he will provide tips on how to run a company à la "business not as usual". Based on his experiences, he'll share how Tribal has evolved and continually value-adds for clients. He'll also provide on his view on the importance of being T-shaped: where you carve out your niche while simultaneously building knowledge across other (contrasting) disciplines.
Tag-teaming with Jeff is Vanessa Yeo, the Associate Director of Innovation from Tribal, who is also part of the Equator team. An accomplished polymath, she defines her own craft as the marriages of "art and science, tech and culture, the physical and digital". Her natural curiosity in people, their environments and technology enables her to create radical, yet relatable and effective business solutions. Combining her skillset with her passion for mentoring young talents, she often shares this philosophy with her mentees as they devise innovative solutions for everyday problems. Catch a glimpse of her at her Campus Party workshops, and find out how she makes the everyday magical through creative concepts executed on the right technological platform.
Perhaps your school or workplace doesn't have an innovation hub like Equator. Not to worry though. At CPSG, you'll be transported across new frontiers by the ideas you'll pick up at the conference. If you're a poly or university student, use the code 'EQUATOR50' to get 50% off your All-Access 3-Day pass!
With such interesting personalities and more at Campus Party Singapore, you definitely wouldn't want to miss out on any fun! Check out the following zones at the festival as well:
Campus Party Arena, an innovation incubator zone to foster maximum creativity through conferences, workshops and non-stop challenges, which are designed to empower, challenge and learn;
Campus Party Experience, where inspirational performances, innovative showcases and organically-presented displays and exhibits allows participants to see and touch the future. This area will inspire the curious, co-create possibilities and motivate participants to get involved in new projects;
Campus Party Village, a uniquely designed camp site to rest, re-charge and build upon informal collaborative opportunities through eating, learning and hanging out with participants from all walks of life. Sign up at https://singapore.campus-party.org/. This is definitely one event you wouldn't want to miss!
---