HERE IS YOUR CHANCE TO CAMP OVERNIGHT AT ASIA'S LARGEST CAMPUS!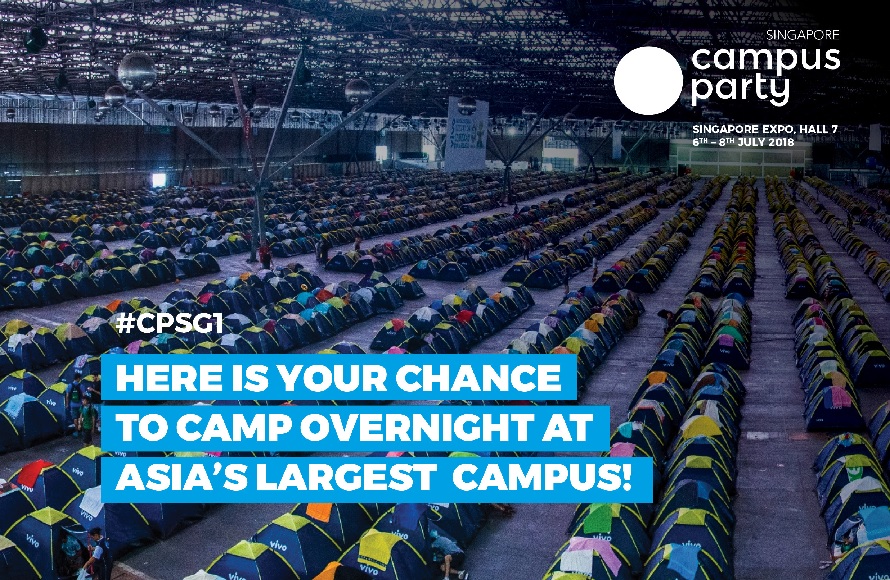 What's better than three days of talks, workshops, challenges, and networking with the smartest and coolest people around? Three days and nights of immersive Campus Party goodness, of course!
Get the full Campusero experience by pitching a tent alongside hundreds of other Tinkerers, Learners and Makers at the festival's camping village.
Camping has been at the heart of the Campus Party experience for the past 20 years, with thousands spending their nights in the Village amongst fellow Campuseros. It's grown from a small, passionate group of tech enthusiasts to the world's largest innovation campout today!
As the global Campus Party concept has evolved and branched out from STEM (Science, Technology, Engineering & Mathematics) to include arts—or STEAM'—it has become a unique opportunity for the art and science communities to meet in one sweet spot and explore new, fresh partnerships. And where better to network and strike up synergistic conversations round the clock than the Campus Party Village?
After a day of talks, hackathons, workshops and networking, the Campus Party Village's 200 tents offer the perfect place to stay 'in the zone'. Keep working on that workshop projects after-hours; have that serendipitous conversation over a midnight snack that could turn into a game-changing collaboration, and reflect on the day's talks with new friends and Campuseros from all over the world, deep into the night.
And when you've talked and tinkered to your heart's content, the Village is the perfect spot to rest and recharge before another day of creative and fascinating tech awesomeness.
The unique 'community camp' is also a comfy camp. With showers and toilets, affordable and tasty meals, and other fun and services on offer, camping out at Campus Party is a great way to ensure that you are refreshed and energised throughout the three-day festival without missing a minute of the fun.
Festival tickets are on sale now! The 'Campusero Experience' ticket is your all-access pass to the event, complete with two nights of camping, tent included. Grab your spot by visiting https://singapore.campus-party.org/attend/
---