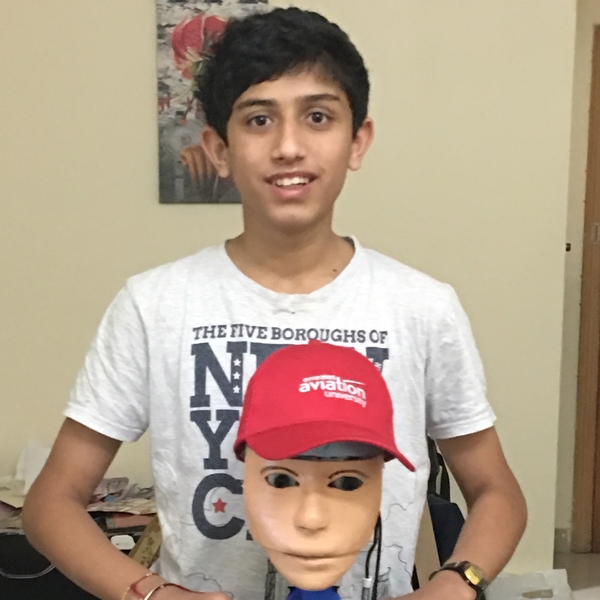 Relive CPSG1
Rishabh Java
High School Student
Rishabh Java is a 15 year old High School student and he likes to make things that help people. His journey at making things started in grade 3 when he had soldered his very own clap switch and ever since then he had been making random things, some for fun and experience, a few to make him look cool and some to help others.
Three years ago, using the resources he had access to, he had built a blind man's robotic dog that could help a blind person safely reach his destination in a crowded place. Following that, he built a Lego arm (something to make him look cool) and a mind controlled drone, where he had hacked a commercial toy to control his drone. He presented these at his school's innovation competition called 'Innovista' and received a very positive response from peers and teachers motivating him to build more things. He then combined the arm and the mind based controller with his knowledge about 3D printing to make a low-cost 3D printed bionic arm that he gave to an amputee in India after wining the first place in his category and the overall best project at the 'Gulf 3D Printing Olympiad'.
He had also won a trip to UK, to present his bionic arm at The Bett Show at the UAE Education Ministry stall. At The Bett Show, he presented his project to Senior Managers from Microsoft who were quite impressed to see it.  At that time, he had already started work on this open-source 3D printed humanoid robot called 'Inmoov', which is like a challenge builders around the world take. He decided to add a purpose to this open-source project, so he modified the design to make it stronger and turned it into a humanoid rescue bot whom he called 'FERB'. He presented this at his school's Innovista in 2017 and 'The World 3D Printing Olympiad 2017' where he won the first prize. He also presented it at the 'Ministry 3D Printing Competition' where he won the second place in his category, 'The Adishankara Young Scientist Award 2018' where he won best presentation and at the 'Global Innovation Challenge' organised by Singularity University where he was the regional finalist.
A year after he started the humanoid along with further developing it, he started new projects which include another robot and a few other projects based on his mind reading headset. He is also a Member of the prestigious Junior Academy of the New York Academy of Sciences USA.